Skinny Pants
by Mimi Jean Pamfiloff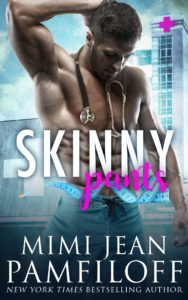 Synopsis:
SHE ACCIDENTALLY CATFISHED THE PERFECT GUY. BUT WILL HE EVER LOVE THE REAL HER? DR. JACK REED has been through hell. His wife cheated on him, broke his heart, and lied for years. But moving on isn't easy, and it's impossible to trust women again. Until he meets Macie, a nurse at his new hospital. There's something about her honest heart that makes him want to fight to get his life back. NURSE MACIE FRANKLIN was always known as "the fat girl." After decades of failed diets, she doesn't dream of ever being anything but invisible to the opposite sex. One moment of weakness and two glasses of bubbly later, she's in a steamy online chat with "Dr. J-Love" as the fake, size 8, bubbly Catrina. Their passionate conversation convinces her it's time to make big life changes. But when she goes to see Dr. Reed, the new amazing surgeon everyone's talking about, it's Dr. J-Love! And he's way hotter in person. They hit it off a second time as friends, but now Macie's heart is at risk of falling hopelessly in love. Will he ever love the real her back?


Can a girl who is not a size 8 find a mate to love her?

Nurse Macie is just at the end of her rope. Her best friends are in serious relationships. She, on the other hand, feels like she has been in hibernation! It is time to make changes! Signing on to a singles match site and posting while drunk can get you in a lot of trouble, as Macie is about to find out.

Doctor Jack has been put through the wringer. Married for over 10 years, he found out his wife was leaving him for another woman. How could he have been so clueless? He had known her all his life and thought they were close intimate friends who then married and became lovers. He is feeling betrayed and lonely. Will he be able to find a woman who is honest, intelligent, and who does not lie?

This is a delightful story of two lonely people who are scarred and in need to find their soulmates. Once again those magical cookies are weaving their spell! This story though comes with ups and downs, chills and thrills. I loved Nurse Macie. She is a modern woman who learns to accept herself and forge ahead.

I am voluntarily reviewing this book. Thanks to the author for sharing a copy with me.
About the Author
MIMI JEAN PAMFILOFF is a USA Today and New York Times bestselling romance author. Although she obtained her MBA and worked for more than fifteen years in the corporate world, she believes that it's never too late to come out of the romance closet and follow your dream. Mimi lives with her Latin Lover hubby, two pirates-in-training (their boys), and the rat terrier duo, Snowflake and Mini Me, in Arizona. She hopes to make you laugh when you need it most and continues to pray daily that leather pants will make a big comeback for men
Sign up for Mimi's mailing list for giveaways and new release news!
Website
|
Facebook
|
Twitter
| Goodreads | Newsletter