Mr. Rook
Rook's Island Series, Part One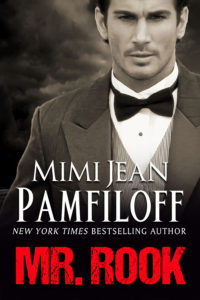 From NEW YORK TIMES Bestseller Mimi Jean Pamfiloff, Comes Part One of Mr. Rook's Island, a Sexy, Dark, Romantic Suspense.
He's Enigmatic, Dangerously Handsome, and COMPLETELY OFF-LIMITS…
The women who vacation on Mr. Rook's exclusive island are looking for one thing and one thing only: to have their wildest romantic fantasies come to life. Pirates, cowboys, billionaires—there's nothing Rook's staff can't deliver.
But when Stephanie Fitzgerald's sister doesn't return after her week in paradise, Stephanie will have to pose as a guest in order to dig for answers. Unfortunately, this means she'll need to get close to the one thing on the island that's not on the menu: the devastatingly handsome and intimidating Mr. Rook. And he's not about to give the island's secrets away.


BUY NOW
KOBO
|
iBOOKS
|
NOOK
|
PAPERBACK
Are first impressions deceiving? Is this island more than it seems at first glance?
Welcome to Mr. Rook's Island where your fantasies can come true for only #50,000. Not kidding, he has the craftiness and the means to create any illusion you wish and satisfy your wish. Only one problem... What happens when a guest never returns to her home and family?
Stephanie is in for more than she was ready to tackle. It is not just the magic of this beautiful island. It is Mr. Rook himself who is drawing her inexorably to him. In the meantime, she must find out what happened to her sister and why she never returned from her vacation to this island.
Guys, this is only the beginning! We are in for a suspenseful series here. I just want to find out all the mysteries of this island. Get on the plain and enjoy!
I am voluntarily reviewing this book. Thank you to the author for sharing a copy with me.
Giveaway
a Rafflecopter giveaway
About the Author
MIMI JEAN PAMFILOFF is a USA Today and New York Times bestselling romance author. Although she obtained her MBA and worked for more than fifteen years in the corporate world, she believes that it's never too late to come out of the romance closet and follow your dream. Mimi lives with her Latin Lover hubby, two pirates-in-training (their boys), and the rat terrier duo, Snowflake and Mini Me, in Arizona. She hopes to make you laugh when you need it most and continues to pray daily that leather pants will make a big comeback for men Sign up for Mimi's mailing list for giveaways and new release news!