Leather Pants
(Book #2 of the Happy Pants Cafe Series)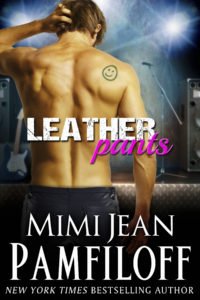 From New York Times Bestseller, Mimi Jean Pamfiloff, Comes Book #2 of The Happy Pants Cafe Series It Only Takes One Hot Rock Star To Ruin Your Life… The youngest woman to ever sit on the bench, the Honorable Sarah Rae Alma has busted her butt to get where she is. No fun. No distractions. And definitely no bad boys. In fact, she takes a certain pleasure in crushing their souls—yes, she has her reasons. So when rock-n-roll's most famous bad boy, the legendary Colton Young, enters her court, looking hotter than sin and smugger than hell, she's just itching to serve a little justice. But Sarah's about to make the biggest mistake of her life. And her fate will land squarely in the hands of the world's most notorious rock star rebel. Will he crush her? Or will he tempt her to take a walk on the wild side?
BUY NOW
Leather pants that leave nothing to the imagination. Hazel eyes that see right through you. Handsome features that generate a charisma to the female gender none can escape. Yes, that is Colton Young, rock star extraordinaire! And now he is in trouble with the Law once again.

So, what does a judge wear under that black robe???? Sarah's nightmare is that one day she will walk into Court and people will notice she is completely naked under her robe. The Hammer's reputation would be positively ruined if that were to happen. After all, she was the toughest judge in her circuit. But now, as she faces her next victim in court, it is none other than the man who turns her insides into butterflies and her brain to liquid mush. Little does she know, her life will forever be changed after this encounter.

If you loved FUGLY you will adore this book! I felt every line of this story as if it were me living it. I cried, laughed, and cheered as Colton and Sarah worked their way through blackmail, treachery, drunken singing, and more... Ms. Luci's cookies are at it again! We can blame the cookies, but these two characters were meant for each other. Wish I could get her recipe!

I am voluntarily reviewing this book because I simply loved it! Thank you to the author for gifting me a copy!

Giveaway
a Rafflecopter giveaway
About the Author
MIMI JEAN PAMFILOFF is a USA Today and New York Times bestselling romance author. Although she obtained her MBA and worked for more than fifteen years in the corporate world, she believes that it's never too late to come out of the romance closet and follow your dream. Mimi lives with her Latin Lover hubby, two pirates-in-training (their boys), and the rat terrier duo, Snowflake and Mini Me, in Arizona. She hopes to make you laugh when you need it most and continues to pray daily that leather pants will make a big comeback for men Sign up for Mimi's mailing list for giveaways and new release news!
Other books in the series
Happy Pants Cafe (Series Prequel)

BUY LINKS
Tailored for Trouble (Book #1)

BUY LINKS