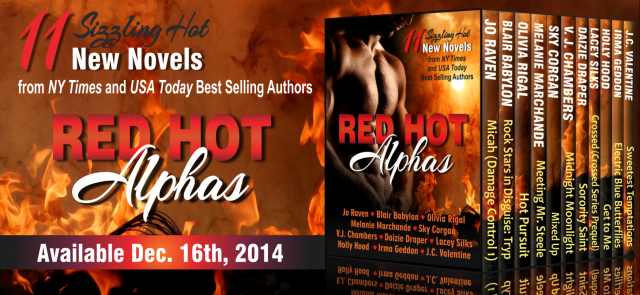 RED HOT ALPHAS BOXED SET RELEASE PARTY AND GIVEAWAY!
11 Novels of Sexy, Bad Boy, Alpha Males!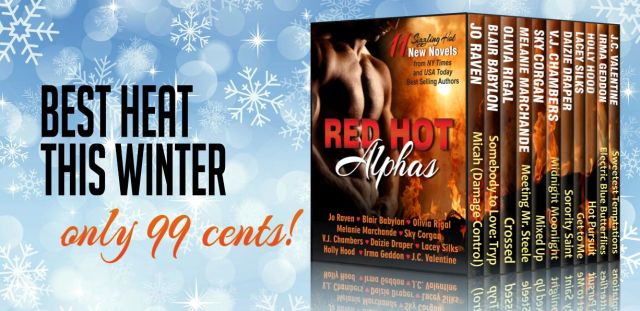 We're celebrating the release of the boxed set with a big romance giveaway of paperbacks, ebooks and gift cards by well-known authors! GIFT CARDS TO WIN!!
THE BOXED SET IS ON SALE FOR A LIMITED TIME!
Over 1700 pages of brand-new novels from your favorite NYT and USAT bestselling authors!
Ready to get HOT?
Eleven top-selling authors have banded together to bring you
11 ALL-NEW NOVELS of love, passion, romance, and thrilling suspense.
From first kisses to dangerous encounters and second chances at love, we've gathered all 11 BRAND NEW novels in one big box, giving you a heart-pounding collection filled with confident, sexy, and mysterious alpha men you'll fall madly in love with.
All these novels are all brand new
and exclusive to the Red Hot Alpha Box Set, and they are
NOT available anywhere else!
If you see your favorite author in here, then
YES, this is a new story that you haven't read yet.
These sexy, alpha men
--from an orphaned tattoo artist, a partying rock star drummer with a secret past, a motorcycle club V.P. who's an undercover cop, an actor with abs of steel, a world-famous billionaire entrepreneur, a werewolf shifter lost in his wild wolf, a jazz musician with darker tastes, a private investigator with a hunger for more than justice, a professional skateboarder that she used to know, to a European nobleman with a touch of magic, and a hunky firefighter with a killer smile and a dangerous job--
will win your heart, your soul, and your body, because nothing less will satisfy them.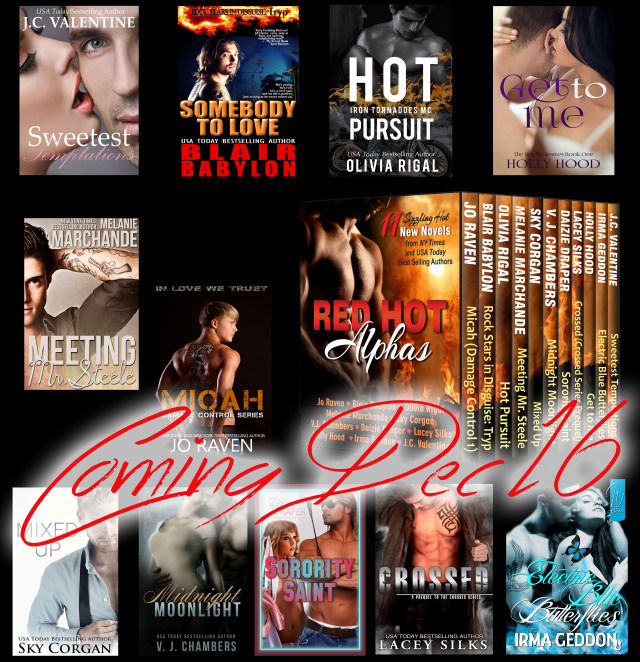 ELEVEN NOVELS TO CAPTURE YOUR HEART AND SET YOUR BLOOD ON FIRE!
MEETING MR. STEELE by Melanie Marchande
- She hired an actor to play her romance author alter ego at public appearances, but she didn't count on him stealing her heart.
SOMEBODY TO LOVE (Rock Stars in Disguise: Tryp) by Blair Babylon -
Meet Tryp, the rock star drummer for Killer Valentine. He's young, he's rich, and his life is perfect, just as long as he never sobers up.
MICAH (Damage Control 1)
by Jo Raven - She saved his life but doesn't know him. He knows her but won't tell her who he is for fear of losing her. Isn't love weird?
HOT PURSUIT (An Iron Tornadoes MC Romance)
by Olivia Rigal - What could be worst for an undercover cop than embracing the spirit of the MC he has infiltrated? Falling hard for a woman who loves the biker he is supposed to be.
MIXED UP by Sky Corgan
- When Kira walked up the steps of the Enkidu Industries building for a job interview, she never expected to find her potential new employer completely naked.
MIDNIGHT MOONLIGHT by V. J. Chambers
- A werewolf twist on Beauty and the Beast: Trapped with a wild man. Drawn to his ferocious heat. She will fight to get free and to tame him, to bring back his humanity.
SORORITY SAINT by Daizie Draper
- When a brash musician entices a shy dancer into performing in his sexy jazz video, the heated tension between these polar opposites could ignite lasting passion or completely scorch them both.
CROSSED (A Prequel to the Crossed Series)
by Lacey Silks - She is looking for the one. He never thought the one existed. But the one thing that connects them can also tear them apart.
GET TO ME (8th Sin Series, Book 1)
by Holly Hood - Sometimes the past and present can cloud your future.
ELECTRIC BLUE BUTTERFLIES (Will o' the Wisp Series #1)
by Irma Geddon - When an arranged marriage between childhood soul mates ends in tragedy, Constance learns to trust that love knows no limit---not even death.
SWEETEST TEMPTATIONS (Blue Collar Series, #1)
by J.C. Valentine - A tenacious bakery shop owner has everything she ever wanted, until a hunky firefighter walks through her door.
How can you go wrong with this anthology of gorgeous Alpha males? Take your pick, they are YUMMY in caps!

I have to say my favorite is "Somebody to Love (Rockstars in Disguise: Tryp)" by Blair Babylon. I LOVE stories about damaged and suffering rock stars. This one had elements of a thriller, with a romatic erotica feel to it without the smut ( I love smut and also love diversity, what can I say!).

Tryp is a mystery. The only thing for sure is that every night he will consume more whiskey or vodka (or both) than any human can ever consume in a lifetime. You can also be assured, his hangover will be epic by the next day. Being in charge of interviews with local radio stations while on tour, Tryp is not putting his best foot forward by being interviewed while sporting roaring hangover. Solution, take the young pyrotechnics specialist (she prefers that title to "roadie") and assigned her to babysit Tryp. Elfie does not take kindly to this new assignment, but with the extra money she will be making, she will be able to achieve her goal of going to college a lot sooner than planed.

Throw these two together, add the fact they both have a troubled past, throw in some external forces blackmailing Tryp and lives being in danger... shake well (this is saying the writing is superb) and you end up with a thrilling, romantic and erotic story you will enjoy.

The other stories in this compilation are just as good. I hope you enjoy them as much as I did.
Like the Red Hot Facebook page to keep updated on this and future boxsets!
Sign up to know when a red hot boxed set is released (we have more planned for next year and you don't want to miss them!)
$100 Amazon gift card and 2 ebook copies of Billionaires in Disguise: Rae (Complete Omnibus Edition), Billionaires in Disguise: Lizzy (Complete Omnibus Edition), What A Girl Wants (Rock Stars in Disguise: Rhiannon) from author Blair Babylon